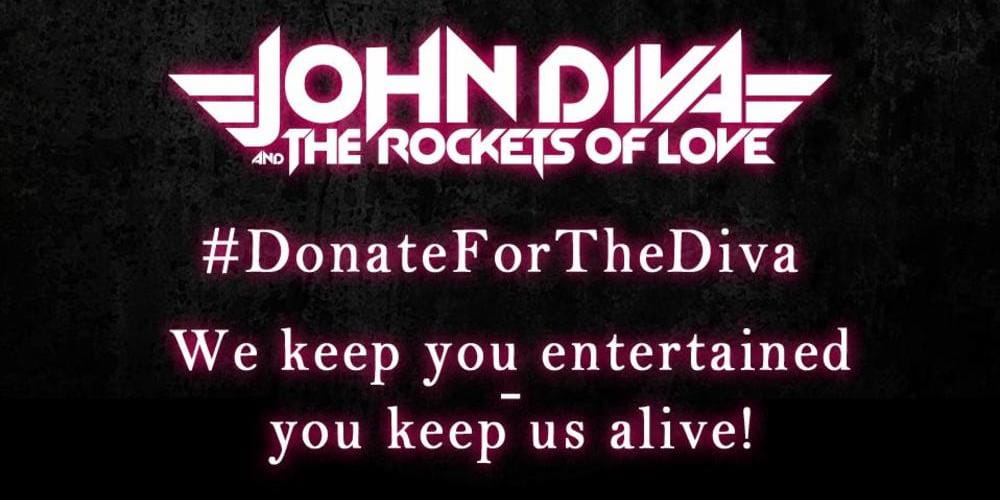 JOHN DIVA
DonateForTheDiva

We keep you entertained - you keep us alive!
Options for DonateForTheDiva
---
Information
It's only been a couple of days and the world suddenly seems to be an entirely different place. We really miss YOU already and we're sure: You do, too!

Right now, there is no option for artists, musicians, technicians, etc. to make a living. Apart from that, we're all quite bored without you...
That's why we decided to keep on doing what we do best: ENTERTAIN YOU!
Today, we start with a very special treat – the original acoustic demo of ROCK'N'ROLL HEAVEN!
More to follow... check out www.johndiva.com regularily!

While we try our hardest to keep you entertained, we humbly ask YOU to keep us alive!
It's a tough situation, and the Diva isn't one to ask for favors hastily. But there is something you can do if you enjoy our antics:
To help us support our crew, our family, and ourselves send us some virtual lunchbox money, if you yourself can spare a dime.

We promise to keep delivering juicy musical snacks in the meantime.
Until then: Stay saucy and – most of all – healthy. Cheers to you and your loved ones!