12.11.21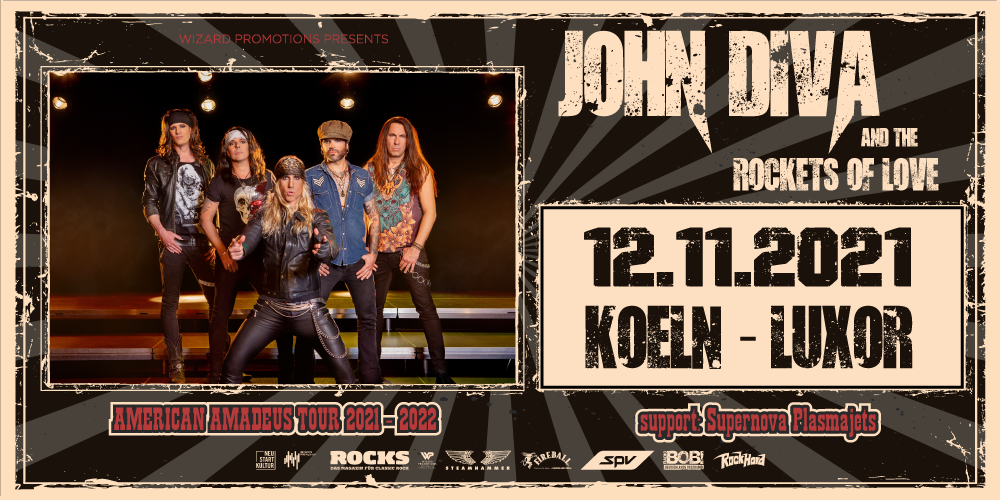 Radio Bob!, Rocks und RockHard present:
Tickets for
JOHN DIVA & THE ROCKETS OF LOVE

American Amadeus Tour 2021 12.11.21 in Köln, LUXOR
Tickets for JOHN DIVA & THE ROCKETS OF LOVE
Köln
---
Information
3G-Regelung laut CoronaSchutzVO.
Bitte beachtet die geltenden Hygienevorschriften: Zutritt zu unserem Konzert wird euch nur gewährt, wenn ihr entweder
- einen Nachweis über die vollständige Impfung (14 Tage nach der letzten Impfung),
- über eine Genesung (bis 6 Monate nach Infektion) oder
- einen negativen PCR Test (nicht älter als 48 Std.), bzw. einen Schnelltest (nicht älter als 6 Stunden)
vorweisen könnt.
DIE ultimative 80er Rock-Show aus Kalifornien in Köln
JOHN DIVA & THE ROCKETS OF LOVE – Authentischer und glamouröser haben die 80er lange nicht mehr gerockt – John und seine Mannen liefern "arena rock at its best"!
"American Amadeus" over Germany: JOHN DIVA und seine ROCKETS OF LOVE zelebrieren das Jahr 2021 mit der wohl druckvollsten Rockparty seit Erfindung des "Konfetti-Rock". Mit brandneuem Album ("American Amadeus" - VÖ: 15.01.2021) in der Tasche sind die Jungs um den Frontmann aus San Diego kaum zu stoppen und strotzen nur so vor überschäumender Power.
Wer einmal dabei weiß: diese Show sollte man auf keinen Fall verpassen - am 12.11.2021 live in Köln!