28.12.19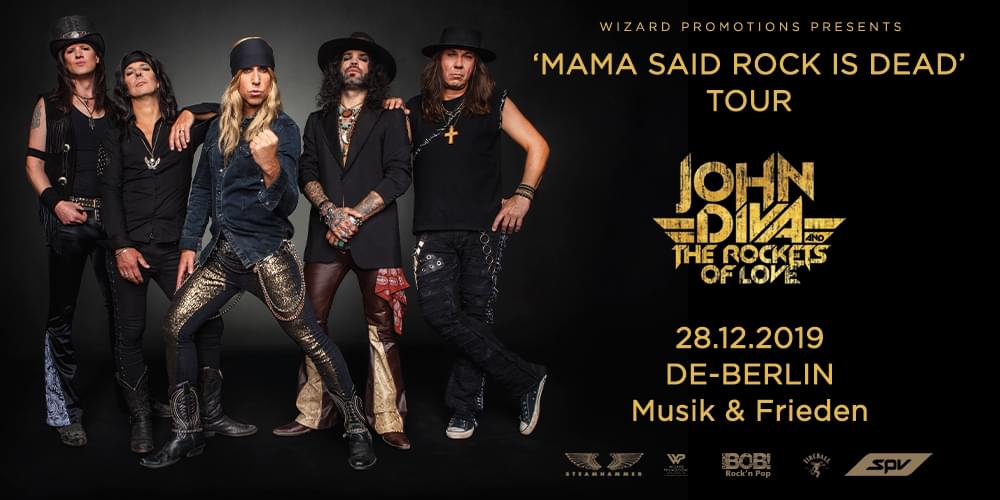 Rock Hard, Rocks & Radio Bob präsentieren:
Tickets for
JOHN DIVA & THE ROCKETS OF LOVE

MAMA SAID ROCK IS DEAD TOUR 2019 28.12.19 in Berlin, Musik & Frieden (groß)
Tickets for JOHN DIVA & THE ROCKETS OF LOVE
Berlin
---
DIE ultimative 80er Rock-Show aus Kalifornien in Berlin
JOHN DIVA & THE ROCKETS OF LOVE – Spektakel, Stars & Stripes, lange Mähnen, sexy Cheerleader und ein Schützenfest an Stadionrock-Hymnen!
Authentischer und glamouröser haben die 80er lange nicht mehr gerockt – John und seine Mannen liefern "arena rock at its best"!
JOHN DIVA und seine ROCKETS OF LOVE zelebrieren das Jahr 2019 mit der wohl druckvollsten Rockparty seit Erfindung des "Konfetti-Rock". Mit neuem Album (VÖ: 08.02.2019) in der Tasche sind die Jungs um den Frontmann aus San Diego kaum zu stoppen und strotzen nur so vor überschäumender Power.
Wer einmal dabei weiß: diese Show sollte man auf keinen Fall verpassen - am 28.12.2019 live in Berlin!